Shared Branching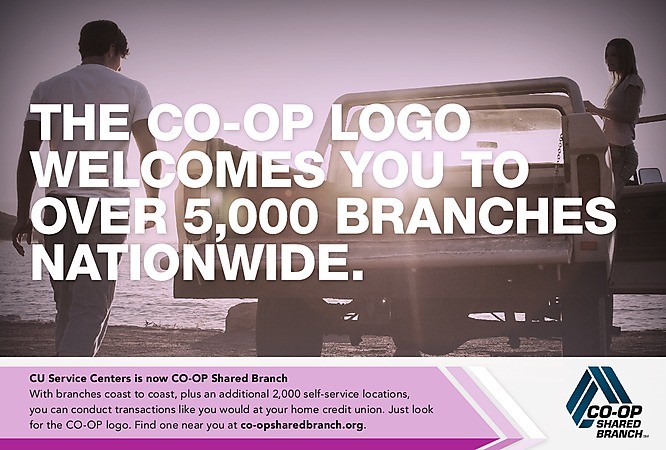 Please read this entire page, there is important fee info below*
ABE Federal Credit union has joined together with other credit unions, internationally, in a cooperative effort to bring you a new choice in financial convenience, the "CO-OP Shared Branch® Network". You can now perform many of your financial transactions and obtain services at branch locations of other credit unions and 7-Eleven kiosks belonging to the network.
By using a CO-OP Shared Branch, your membership and accounts remain at ABEFCU, but you can access your accounts and conduct business with ABEFCU through any of the convenient CO-OP Shared Branch Locations. In this way, through a network of participating credit unions, access to your accounts and credit union services is made easier.  Members who prefer to use apps on their mobile devices can also download the new CO-OP Locator now on Google Play and iTunes stores.
Convenience for your Family
Financial partnership at the work place is probably the reason you joined your credit union. But convenience for you at work may not translate into convenience for your family members. Previously, your family members may not have had access to an ABEFCU' branch. Now with CO-OP Shared Branch, your family will find access to ABEFCU more convenient.
Convenience for on the Road and when Relocating or Vacationing
No matter where you may be on the road, your credit union, is now as close as the nearest CO-OP Shared Branch. With so many convenient locations, you will be able to access your credit union account even if you travel or relocate hundreds of miles from your credit union.
How do I access my account?
You need three things when you visit a CO-OP Shared Branch:
The name of your credit union – American Broadcast Employees FCU
Your Account Number at ABEFCU (the short 6 digit or less account number)
A current, un-expired VALID U.S. Government issued picture Identification with signature
State issued driver's license or identification card (temporary extensions are not accepted)
U.S. Passport
City, State, County or Federal I.D. card or badge
U.S. Armed Forces Identification Card or the new Smart Identification card without signature
Resident Alien Card issued by the INS
Have these items ready to present to the teller. This will save you time and will help us with serving you. All transactions require identification. We ask, because CO-OP Shared Branch cares about protecting your identity and account information.
If you have questions regarding your account or transactions that were performed through the CO-OP Shared Branch, please contact you local ABE Branch.
Cash Withdrawal Limits
CO-OP Shared Branch may limit cash withdrawals to $500 per day, regardless of ABEFCU's policy.
Holds and Deposited Funds
The funds you deposit at CO-OP Shared Branch locations may not be available for immediate withdrawal from your credit union account.
HOLDS are placed on items you deposit through CO-OP Shared Branch locations based on ABEFCU's Check Hold Policies. REMEMBER – THE LOCATION DOES NOT PLACE THE HOLDS ON YOUR ACCOUNT.
The CO-OP Shared Branch Location CANNOT REMOVE A HOLD PLACED ON YOUR ACCOUNT. YOU MUST CONTACT YOUR ABEFCU BRANCH.
Stop Payments
The CO-OP Shared Branch Location CANNOT accept a stop payment request on your own checking account. YOU MUST CONTACT YOUR ABEFCU BRANCH.
If you need to place a stop payment on a check you obtained from the CO-OP Shared Branch Location, such as a cashier's check, money order or official check, you must contact the CO-OP Shared Branch Location where you obtained the check. There will be a waiting period not to exceed 90 days before funds can be released. You may be required to complete an indemnity agreement. There will be a fee for this service.
With CO-OP Shared Branch, you can use your valuable ABE Federal Credit Union membership internationally!
7-Eleven® Stores
CO-OP Shared Branch is now available at selected 7-Eleven stores that have Vcom® units (self service branch kiosks) where you can access your credit union accounts.
How do I find these locations?
You can find these locations at CO-OP Shared Branch Locations
The user-friendly Vcom Units have been stationed at 7-Eleven stores from coast to coast.  They are similar to a self-service kiosk, as the Vcom Units perform an extensive list of shared branching services.
What types of shared branching services are available on a Vcom® Unit?
Check Deposits
Cash Withdrawals – we recommend that you use the ATM button and withdraw for free thru CO-OP
Cash Loan Advances
Loan Payments by check
Transfers within the member's credit union accounts
Balances
Recent History showing the last ten items that cleared the member's account
Is there a surcharge for a shared branch transaction at a Vcom® Unit?
No, the Vcom Unit will not charge a fee for performing a shared branch transaction.
What information is needed to begin using the Vcom® Unit?
The name of the member's credit union
Member account number at the credit union
A debit, credit or check card from the credit union the member belongs to
How easy is it to access credit union accounts?
It is very easy and secure. All the member has to do is answer a few security questions and then choose a PIN number to be used for future visits.
Is there a location guide for the Vcom® Units where shared branch transactions can be performed?
You can find them on the internet at CO-OP Shared Branch locations and by calling (888) 748-3266.
How many Vcom® Units are currently available?
There are over 2,000 Vcom Units from coast to coast.
Is there assistance available at the Vcom® Unit for questions?
Yes, a phone will be available on the Vcom Unit. It will connect members to the help desk in case there is a problem with the Vcom Unit or to answer any questions.
Can I access the Vcom® Units 24 hours a day?
Yes, all 7-Eleven stores with Vcom Units are open 24 hours a day, 7 days a week.
7-Eleven and Vcom are registered trademarks of 7-Eleven, Inc.
*Please read below for fees charged to members by ABEFCU for Shared Branch transactions, and the free alternative to do the same transaction. The goal of ABEFCU is to offer you the convenience of a full range of transactions at a Shared Branch location, but we do encourage you to use the free alternative when possible. Any checking (share draft) account transaction is charged to that checking account. All other fees are charged to the savings (prime share) account. To help prevent any overdraft fees, the transaction will only go through if there is enough available in the account for the transaction and the fees.
Shared Branch Schedule of Fees
No fee deposits to your checking and/or savings account at any Shared Branching location.
There is a $1.00 fee for all account inquiries and statement requests. This information is also available with ABE's Internet Branch product at no charge.
Checking and Savings withdrawals are $1.00 per transaction. These withdrawals can be made at no charge at ABE branches and ATMs as well as any of the nearly 30,000 CO-OP ATM's.
Cash advances on loans and/or lines of credit are charged $2.00 per advance. At no charge, you can transfer the funds with Audio Response or ABE's Internet Branch product and withdraw the cash from an ABE or CO-OP ATM.
There is no fee for Shared Branching loan payments made with cash and/or checks.  Transfer loan payments made at a shared branch do have a $2.00 service fee.  You can do transfers on home or mobile banking to avoid the transfer fee. 
Account transfers are subject to a $2.00 service fee. Alternatively, transfers can be done at no charge with Audio Response or ABE's Internet Branch product.
Purchases of services (i.e. certified checks, money orders, stamps, etc) paid for out of your share (draft) or loan account are charged a $2.00 service fee. To avoid paying this fee, use cash to make service purchases at CO-OP Shared Branch locations.
Other transactions are available at CO-OP Shared Branch locations. There may be fees imposed for these other transactions by the CO-OP Shared branch you visit. A schedule of these fees will be posted for your reference.
If you are using a CO-OP shared branch Kiosk (7/11), we recommend that you hit the ATM button only for withdrawals, that way it will be free thru the CO-OP Network, otherwise you will pay $1.00 for the withdrawal. For all other transactions hit the Service Centers Button.
For the nearest CO-OP Shared Branch Location go to CO-OP Shared Branch Locations or call (888) 748-3266