Auto Loan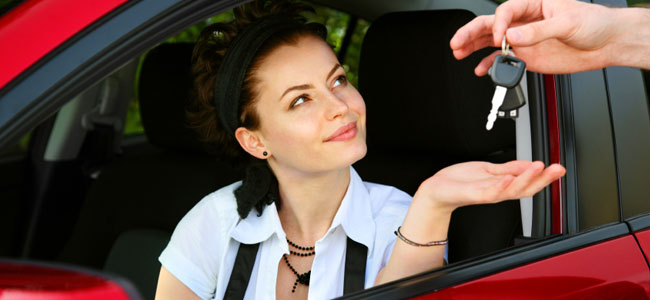 With ABEFCU's great low rates you can save money on your monthly payments and lower your total cost of financing. Best of all, you can use this loan for the purchase of a new or used vehicle, or to refinance an existing loan from another financial institution.
New and Used Vehicle Loan
Let ABE's experts help you through the entire process of purchasing a vehicle.
With a pre-approved ABE Federal Credit Union Auto Loan, dealers will view you as a cash customer and you'll be in a much better bargaining position. You'll have the ability to negotiate a better vehicle price and, in most cases, drive away the same day, plus your first payment can be deferred for 90 days1.
Refinanced Auto Loan Program
If you have an auto financed elsewhere, ABE may be able to lower your interest rate and save you money.
A few minutes may save you thousands. Click here for refinance example
Other Vehicles and Boat Loans
Whatever type of recreational vehicle you're dreaming of, an ABE loan can help you afford that dream.
ABE will finance
Up to 90% of the purchase price of a new boat or new motorcycle, with a maximum loan amount of $15,000.00.
Up to 80% of the purchase price of new motor homes, fifth wheel trailers and RVs with a maximum loan amount of $50,000.00.
GAP Insurance
If you purchase GAP Insurance from ABE, we will finance up to 120% of the purchase price of a new or used car, truck, or van (which includes registration, taxes, filing and warranty)
Most new cars depreciate thousands of dollars as soon they are purchased. Nearly all cars depreciate faster than they are paid. Unfortunately, if your vehicle is stolen, accidentally damaged beyond repair, or otherwise declared a total loss, you are still liable to pay the difference, or the "gap," between your insurer's settlement and your loan balance.  Click here for GAP Insurance Info
Mechanical Repair Coverage
Getting an auto loan is about more than just the right rate.  It's also about having the right protection.
Mechanical Repair Coverage (MRC) helps pay for covered repairs on your car when unexpected breakdown occurs.  For a few dollars a month, you can protect your vehicle and your finances from expenses that could total to hundreds or even thousands! Click here for details 
Payment Protection
For your protection, we offer two types of Payment Protection for your loans – Credit Life and Credit Disability Insurance. This protection removes the burden and obligation of unpaid loans from loved ones in the case of the death or debilitation of the primary borrower. Click here for details.


TruStage™ Auto Insurance Program
Exclusively for credit union members like you, the TruStage Auto Insurance Program provides affordable top-quality protection. You could enjoy discounted rates combined with online convenience and 24/7 claims service.
Get your free quote today or call 1-855-483-2149.
TruStage™ Auto and Home Insurance program is offered by TruStage Insurance Agency, LLC and issued by leading insurance companies. Discounts are not available in all states and discounts vary by state. The insurance offered is not a deposit and is not federally insured. This coverage is not sold or guaranteed by ABEFCU.
Learn More about Insurance and other Loan Protection Products
1 Interest will accrue during the deferment period and becomes due once payments begin. Auto loans currently financed through ABEFCU cannot be refinanced with this offer.
** APR = Annual Percentage Rate