Fee-Free CO-OP ATM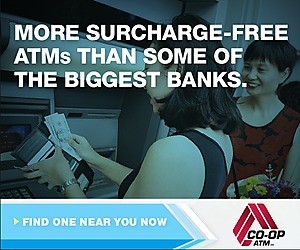 ABEFCU members are able to access nearly 30,000 ATMs surcharge-free on the CO-OP ATM Network, which now include 7-Eleven, Costco and Walgreens locations Free of Charge.
The CO-OP ATM Network gives you surcharge free access to YOUR money! Through your membership in a credit union participating in the CO-OP ATM Network, you have access to your money at nearly 30,000 surcharge-free ATMs across the United States and Canada. A surcharge is a "convenience" fee for using many bank ATMs, typically $1.50 or more. In fact, it's getting harder and harder to find surcharge-free ATMs… unless you are one of the millions of credit union cardholders who have surcharge-free access to ATMs across North America displaying the CO-OP ATM logo. Only credit unions belong to CO-OP ATM Networks, which means more than 20 million credit union members across the US have access to the CO-OP ATM Network with their ATM or Debit cards. Just look for the CO-OP ATM logo on an ATM or click here to find a surcharge-free CO-OP ATM near you.
Program 888 748-3266 into your cell phone to locate the nearest surcharge-free CO-OP ATM.
ABE Federal Credit Union Members may not deposit cash or checks at non ABE ATMs.